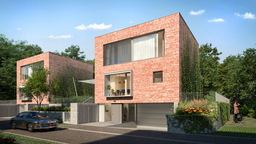 previous type
townhouses D
5 x solitary villas | "B-type"
From

47 686 000 CZK

VAT incl.
The highest possible standard, absolute privacy, and beautiful, and above all, really generous gardens are the advantages of these five luxury villas, which form the heart of the Jenerálka top'residence project, designed in the spirit of the Raumplan concept. This villa is also offered in an alternative 4+1 layout with a generous kitchen and dining room instead of a guest room.
Disposition:

5+kk

Usable area:

225,6 m2

Garden:

od 501 m2

Plot:

od 652 m2

Garage + outdoor parking:

2+1

Energy label:

B
next type
C1 villa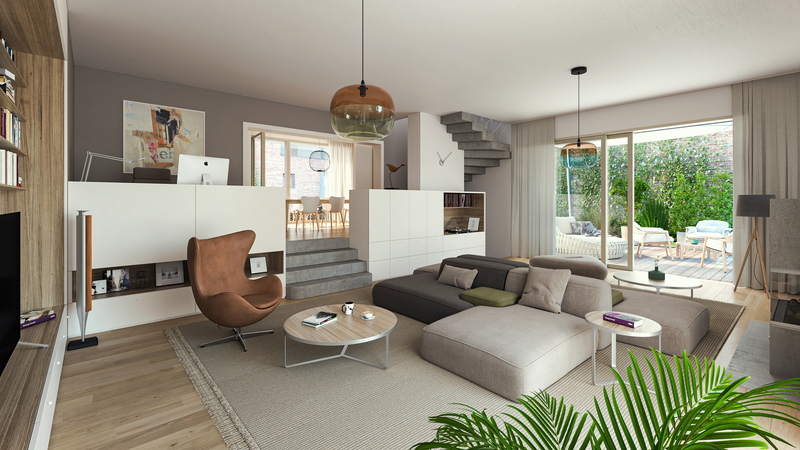 Thoughtful layout
The trendy 5+kk layout is especially ideal for families with children. Parents get their oasis of calm with a bathroom and dressing room, and children the privacy of their rooms. There is also a spacious guest room with a bathroom. We also offer B houses with an alternative layout of 4+1, where instead of a room for guests or a study, there is a large kitchen with a dining room. The heart of the house thus becomes a generous living space with an area of 86 m2 with a clear height of 3.4 m, connected to the terrace and garden by large French windows. Part of the gallery can be used as a small office thanks to the architect's original design. Upstairs you will find the parents' bedroom with a bathroom and two children's rooms with a shared bathroom and terrace.
Spacious garden
You will fall in love with the gardens of detached villas and townhouses thanks to their privacy and existing and newly planted trees. Most plots can be entered directly from the street via a gate, which is, however, lower than the gardens, contributing to the residents' privacy and comfort. Type B villa plots are offered from 650 m2 to 856 m2.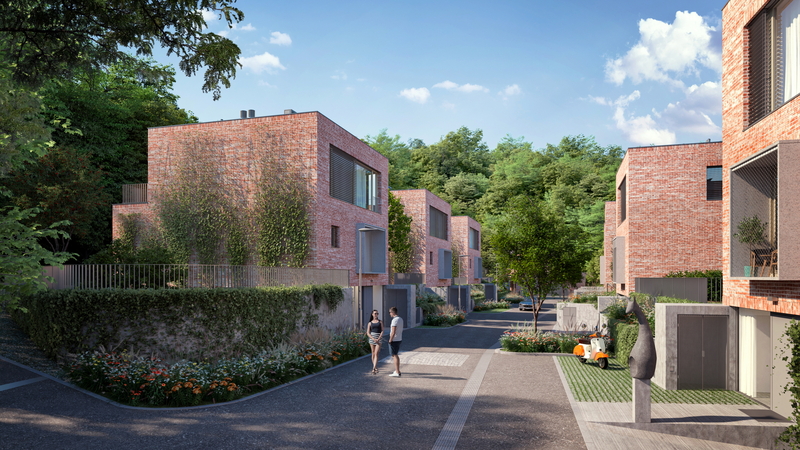 Plenty of privacy
Thanks to the ingenious increase of the ground floor of the house compared to the street space by approximately 2 meters, you will not only get a convenient entrance to your garage, but especially a feeling of safety and peace in the garden of the house, which is located on the 1st floor above ground. The continuous ground floor naturally alternates entrances to garages and entrances to villas with front gardens, and of course, there is enough space for the cars of visitors or couriers. The newly created street will also serve only the existing community and new residents, so there will be very little traffic, making it safer for pedestrians and children.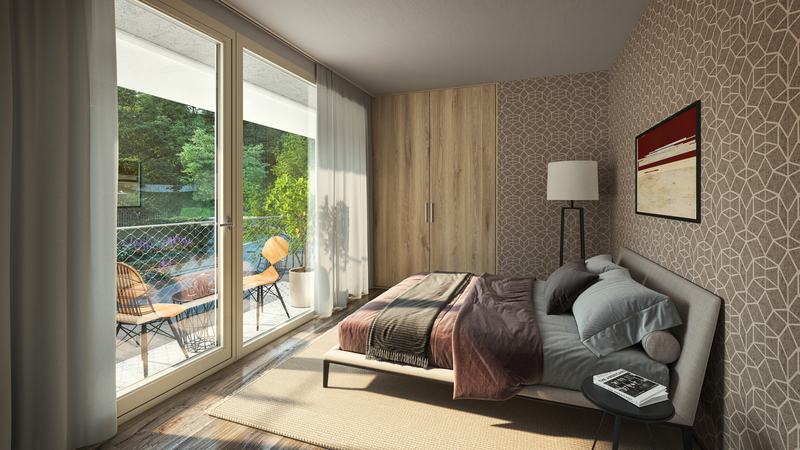 Smart technologies and standards
top'residences are interwoven with smart technologies and solutions that will satisfy even the most demanding clients. One of them is the 2in1 ceiling cooling and heating system. It is not only an equivalent variant of floor heating but surpasses it in many respects. All houses have an air-conditioning unit with heat recovery and an enthalpy exchanger, which is very energy efficient and suitable for allergy sufferers. An electronic security system is a matter of course. The houses will be prepared for the installation of PV solutions with sufficient capacity for charging electric cars, as well as preparation for the placement of a fireplace insert and a central vacuum cleaner.